Focus: Remote Access
Are you out of the office and need access to your email and desktop PC? Ever been home and forgotten to take a critical document or spreadsheet with you? If so, you need a remote access solution. There are several alternatives:
Remote Email: You can access your company email from any computer or device with a full-featured web browser.
Remote Network: You can securely access any files or resources on your company network from outside the office.
Remote Desktop: you can access your desktop PC as if you were sitting at your desk.
Each of these solutions is a practical necessity for many businesses. Let us show you how to put them to work in your business.
Product Focus: Microsoft Small Business Server
Microsoft Small Business Server is a specially-packaged version of five enterprise-level products:
Windows Server 2003 - basic server networking functions and security
Microsoft Exchange - company-class email server
Sharepoint Services - basic document collaboration and storage
Application/Web Server - allows you to run internal network applications
SQL Server - basic database and reporting functions
This special packaging gives small businesses the same functions as much bigger companies - at a fraction of the big company price. All while expanding with your business.
Small Business Server can support up to 75 computers and network devices with modest, inexpensive server hardware.
For many small businesses, Microsoft Small Business Server provides many business advantages over a collection of separate PCs. We can show you how SBS can help your business.
Let us install SBS in your office to protect your data and enhance your productivity. SBS is designed to be remotely administered (by companies like us) so you don't need your own in-house geek or IT staff. We can get you - and keep you - up and running and focusing on your business, not your technology.
Small Business Productivity and Collaboration
Most everyone has used the ubiquitous Microsoft Office suite of software. It's been around in one form or another since the early 90s, yet it's still as important as ever to most businesses. So important that there are now several competitors to challenge the 800lb gorilla. Most of them are perfectly functional, and less expensive than the original, but that's not necessarily a good thing if you consider training and employee familiarity.
Documents and Spreadsheets

Cloud-based email has come a long way in the last few years. All that was available in the past was very simple POP3 and IMAP-based email systems (think hotmail and yahoo), with none of the corporate features that have come to be expected and relied upon from traditional corporate email systems. With the wide availablity of Office 365 Email (which is basically Microsoft's Exchange Email hosted in the cloud at a Microsoft data center), small business customers can at last have the same features that corporate employees have become dependent on. Instant email notifications, mobile device push notifications, security, calendars, shared contact lists, groups, shared and delegated accounts - all these features are now available to the SMB business, at a reasonable monthly cost. Office 365 Email is a game changer, and businesses should strongly consider it.
Worker and Office Collaboration

On-Premise Server-based email is having your own separate email system just for your company. It's more secure because emails between employees never leave the office, and all emails can be backed up nightly (for reliability as well as to meet retention requirements). Having your own email server means you have ultimate flexibility of how your emails are routed. Want a public email address for "sales@yourcompany.com" that deposits incoming messages into a common folder that can be read by all your sales staff? No problem. Want someone to be able to automatically forward their messages to someone else when they are on vacation? Again, no problem. You can also do more advanced things like receiving incoming faxes and voicemail messages as email attachments.
While cloud-based email is being rapidly adopted, there are some businesses that have requirements where it doesn't make sense, due to security (HIPAA, PCI, etc.) or other client data requirements. In those cases, on-premise email is still the most accepted solution.
File Sharing and Exchange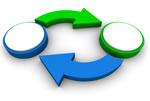 Server-based networking also provides some other benefits for information management and collaboration. Have you ever had to review a document that someone else authored, make comments or changes, then give it back to them for final publishing? How do you keep up with which version is the correct one (especially if more than one person is reviewing)? The answer is a collaboration tool that keeps track of each version, who last saved it, and what changes were made.
Advanced collaboration tools allow employees - either across the room or across the country - to discuss documents in real-time and to each see the changes as they are made. They can also route documents along a review path, and keep track of the intermediate and final versions (in case you need that paragraph that someone else deleted three versions ago). Let us show you how there's more to life than emailing word documents around to your coworkers.